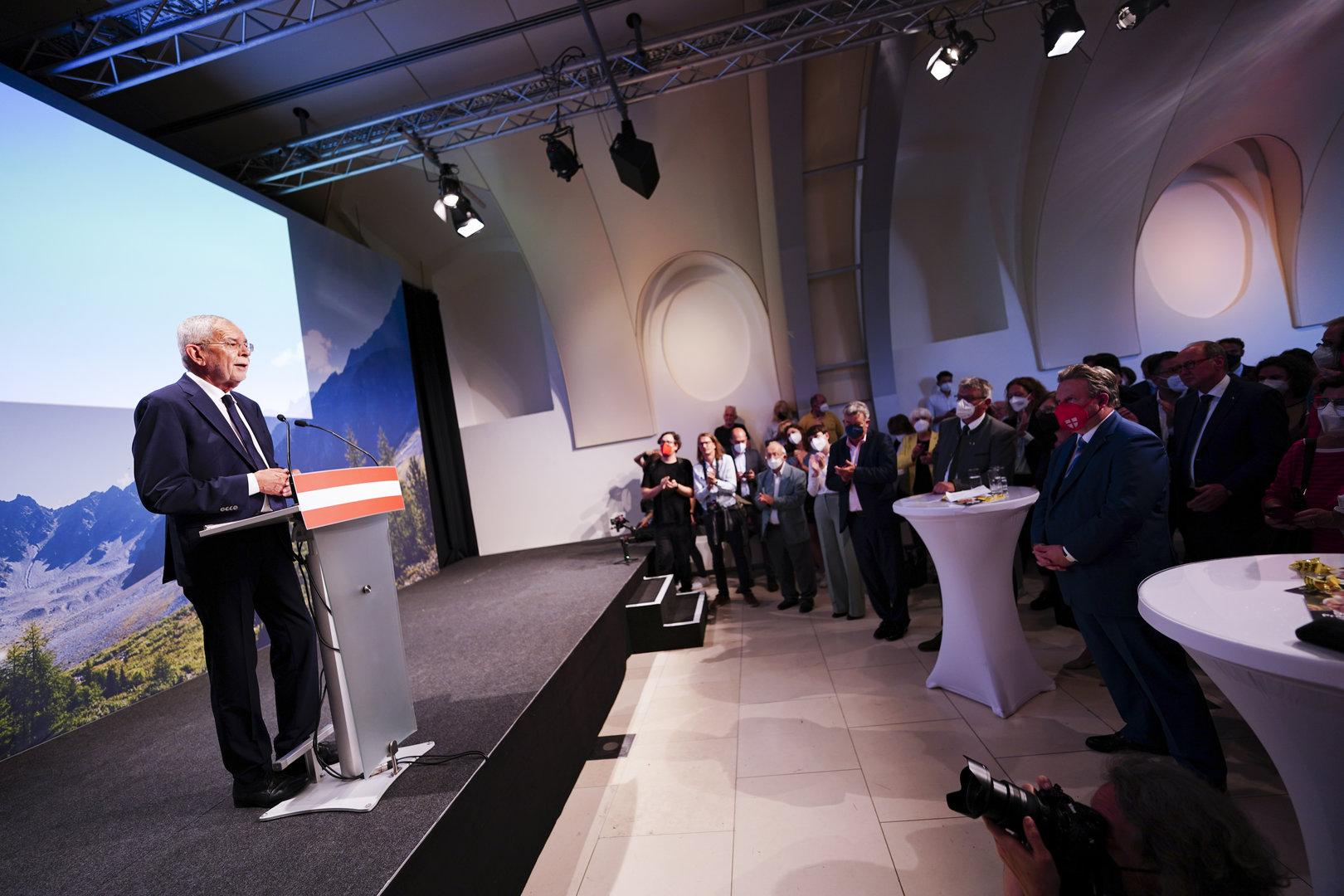 Prezydent federalny Alexander Van der Bellen oficjalnie rozpoczął kampanię wyborczą w piątek. Na imprezie w Dzielnicy Muzeów w Wiedniu, w której uczestniczyli wybitni zwolennicy, tacy jak burmistrz Wiednia Michael Ludwig (SPÖ), przedstawił swoje doświadczenie i podkreślił swoją niezależność. Ponownie wyraźnie odrzucił pomysły swoich konkurentów, aby zwolnić rząd lub dyskutować o członkostwie w UE.
Niezwykłe dla byłego przywódcy Zielonych, ale zgodnie z jego kampanijną opowieścią o miłości do domu, Van der Bellen przeniósł się do sali przy serdecznych dźwiękach fanfary Kaunertal, która była tak wiwatowana przez wiedeńską publiczność, że przeszła w awanturę. krok dalej. W swoim półgodzinnym przemówieniu Van der Bellen pochwalił swoją tyrolską ojczyznę i podkreślił w związku z kryzysem klimatycznym, że "jest naszym cholernym obowiązkiem", aby zapewnić przyszłym pokoleniom nietkniętą przyrodę.
rzetelność i uczciwość
Jednak na początku swojego przemówienia Van der Bellen złożył hołd zmarłej brytyjskiej królowej Elżbiecie II, która była "ikoną uczciwości, dyscypliny, oddania obowiązkom" i poprosił o chwilę ciszy. "Rzetelność i rzetelność – to wartości, które nigdy nie wychodzą z mody" – podkreśla Van der Bellen. Wszystkie wyjątkowe sytuacje, które współistnieją, są po to, aby pozostać – dlatego trzeba podkreślać "wspólność" i wierzyć, że zmiana na lepsze jest możliwa.
Wojna agresji Putina na Ukrainie jest "atakiem na zachodni styl życia". Złagodzenie sankcji niczego by nie poprawiło, bo Putinowi nie można już ufać. Jak powinien wyglądać taki relaks, pytał Van der Bellen: "Że biedni oligarchowie mogą wrócić na swoje jachty, bo inaczej nie mieliby domu?" Nie należy po prostu akceptować działań Putina: "Czas despotów w Europie minął". Ale oznacza to również, że trzeba być przygotowanym na trudne czasy i upewnić się, że nikt nie stanie na przeszkodzie i nikt nie musi się martwić, że nie będzie w stanie zapłacić rachunków za ogrzewanie.
Konstytucja federalna faktycznie pozwala na zwolnienie rządu federalnego i wymuszenie nowych wyborów – ale to "niebezpieczna gra", powiedział swoim konkurentom. Tylko raz w historii ktoś chciałby czegoś takiego, z niepewnym wynikiem – kiedy Engelbert Dollfuss znokautował parlament w 1933 roku, powiedział Van der Bellen. Prezydent federalny zdecydowanie odrzucił też debatę o wyjściu z UE. "Nie bawisz się tymi rzeczami. Nie grasz z Austrią".