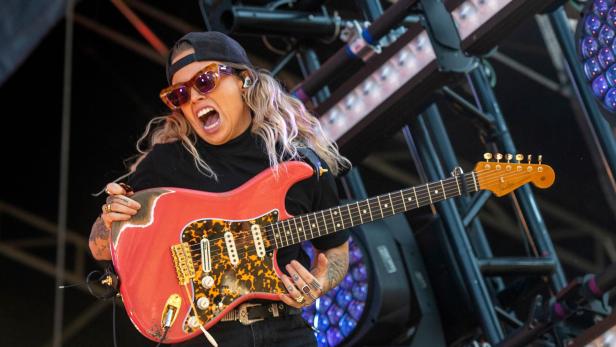 Talent muzyczny z Australii z pasją i entuzjazmem grał na ośmiu instrumentach i partyturach w Vienna Arena
Czy istnieje instrument, którego Tash Sultana nie zna? To właśnie wielu zastanawiało się, kiedy w poniedziałek wieczorem na wiedeńskiej Arenie pojawiła się wszechstronnie utalentowana, samozwańcza osoba niebinarna.
Jakby w mgnieniu oka Sultana przesiadła się z gitary na klawisze, potem na basie i na perkusji w pierwszym utworze. A to nie wszystko: podczas koncertu grał także na flecie, mandolinie, saksofonie i trąbce. I na każdym z tych instrumentów 27-latek brzmiał co najmniej znakomicie, często – jak na gitarze – także wirtuozowskim.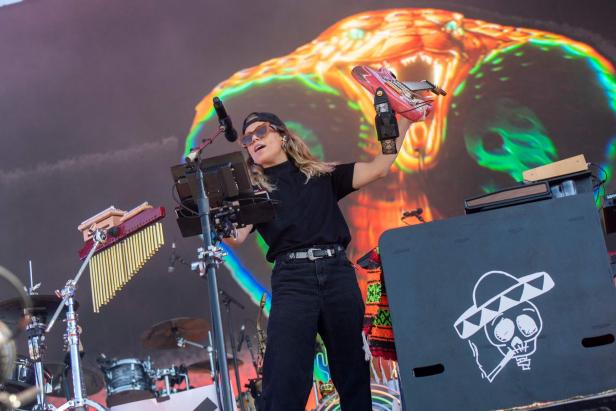 Ta wielozadaniowość to cecha, która rozsławiła Sultanę: gra swoje brzmienie – mieszankę reggae i elektroniki, funku, soulu, rocka i jazzu – solo i jak Ed Sheeran przy pomocy loop station. To urządzenie nagrywa to, co jest grane na żywo i powtarza riffy lub bity, często kilka taktów, podczas gry na nowym instrumencie na górze. Więc stopniowo tworzy brzmienie zespołu, a potem śpiewa.
Jednak początkowo nikt nie słyszał o piosence Sułtany na arenie. Początkowo bardziej skupiała się na swoich umiejętnościach instrumentalnych. Piosenki takie jak "Big Smoke" czy "Cigarettes" były jak trampolina do instrumentalnej improwizacji. Na tym etapie występu jej radość została nieco zakłócona przez potężny, dudniący bas, który w międzyczasie uwydatniał zawiłości złożonej struktury aranżacji stacji pętli.
Jednak emocje i podekscytowanie, które Sultana wniosła na scenę swoim namiętnym i niemal przesadnym zaangażowaniem, gdy uderzała w rytm i kiwała głową niczym metalowy headbanger, wciąż były widoczne w tylnych rzędach wyprzedanej areny. .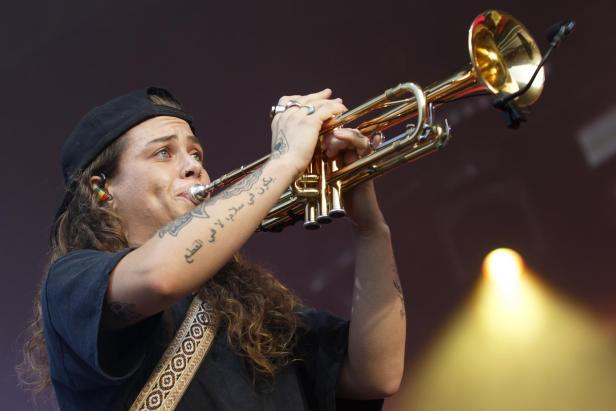 Mniej więcej w połowie wszedł zespół Sultany i zamienił zabawę koncertu, który do tej pory przypominał występy elektroniczne lub DJ-skie ze względu na loop station, w koncert jazzowy. Zabrzmiały kolejne solówki – tym razem, zgodnie z brzmieniem, na trąbkę i saksofon. A w jej głosie było coraz więcej wyjątkowego śpiewu i niepowtarzalnej barwy głosu.
To, że Sultana posiada również instrument w krtani do perfekcji, było jasne podczas bisu, kiedy podczas "Notion" wydobyła najwyższe dźwięki ze strun głosowych a cappella i wydobyła w ten sposób największe linijki wieczoru.
Ostatecznie było jasne: bardziej wszechstronnego talentu muzycznego nie było na tej scenie od koncertu Sultana's Arena w 2019 roku. I nie wcześniej od bardzo, bardzo dawna. Na dzisiejszej scenie popowej należy jej szukać pod lupą.
Najlepsza aktualizacja zawsze i wszędzie
Uzyskaj nieograniczony dostęp do wszystkich treści cyfrowych od KURIER: dodatkowe treści, e-papiery, czasopisma online i nie tylko. Wypróbuj teraz cyfrową subskrypcję KURIER.